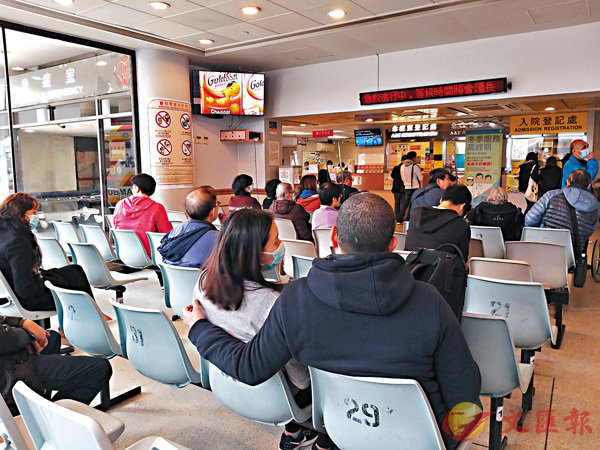 ■每逢假期,急症室都「爆滿」。 資料圖片
【原文】聖誕節假期加上冬季服務高峰期,聯合醫院、威爾斯親王醫院及伊利沙伯醫院多間公立醫院急症室,聖誕節當日非緊急病人候診時間一度長達8小時,大批市民在醫院大堂苦候看診。每逢假期,急症室「爆滿」現象一再重演,增加市民痛苦。醫管局應增加假期維持服務的普通科門診,為急症室分流,加強宣傳發佈急症室輪候時間的網上通報系統,讓市民了解輪候時間,合理調整求診安排。醫管局還應通過公私合作,加快建設社區健康中心,讓市民就近獲得所需的醫療服務,減少對急症室不必要的使用,紓緩急症室的壓力。
聖誕節、農曆新年等節慶期間,大部分普通科門診和私家診所都不提供服務,這段時間通常又是冬季流感高峰期,發病的市民,即使病況輕微,在別無他選的情況下,只能前往急症室求診,加重急症室壓力,輪候時間有增無減。2017聖誕節、2018農曆新年,都出現過多間急症室高峰期非緊急病人需輪候逾8小時的情況,公院內科病床的佔用率「破百」。有市民通宵等候逾12小時仍未獲安排見醫生,更有人因為輪候時間太長而放棄求診。
急症室主要功能是搶救重大危急病症,並非醫治普通傷風感冒。特首林鄭月娥2017年10月發表的施政報告中表示,政府會投放資源改善醫療體系及服務,有關措施包括大力推動基層醫療健康,減少病人重複入院及糾正市民以急症服務作為求診首個接觸點的現象。但是急症室一到長假期就人滿為患,前線醫護人員超負荷工作,身心俱疲,市民長時間等候苦不堪言,怨聲載道,這樣的情況不見好轉,反有惡化之勢,醫管局必須正視,下決心加以改善。
現時醫管局轄下全港73間普通科門診,只有23間在星期一至五提供夜診(即由下午六時至下午十時)服務,當中只有13間在提供夜診服務之餘,還提供星期日及公眾假期診症服務。因應急症室長假期的求診需求越來越大,醫管局應積極考慮增加公眾假期繼續服務的普通科門診數目,為急症室分擔壓力。另外,醫學會指出,不少私家診所在假期都有營業,病情較輕的市民可先找私家醫生。醫學會正研究推出手機應用程式,透過即時定位功能,方便市民找到附近有營業的私家診所。
醫管局2016年12月開始,於網上及手機應用程式「醫管局與你」,發佈各間公立醫院的急症室輪候時間。可惜,至今大部分市民仍未認識有此網上通報系統,令系統未能有效發揮分流病人的作用,醫管局應多做宣傳推廣,更應研究將假期仍繼續服務的私家診所資訊納入系統中,讓普羅大眾透過系統選擇更適合自己的醫療服務,無需稍有頭暈身熱,就第一時間湧到急症室。
政府正全面檢視基層醫療服務規劃,構思建設以嶄新形式運作的地區康健中心,由政府出資,利用地區網絡購買服務,加強在社區內的醫護及復康服務,使市民在社區內獲得所需的照顧,減少對公立醫院急症室的依賴。這項利民建設應加快,改變市民以急症室為首選求診服務的習慣。 (標題為編輯所加) (摘錄自香港文匯報社評26-12-2018)
Ease the pressure on the A&E departments through the public-private partnerships
【譯文】Crowds of patients were forced to wait outside of emergency wards as the winter surge hits local hospitals during the Christmas holidays. On Christmas day, non-urgent patients visiting accident and emergency (A&E) wards at United Christian Hospital, Prince of Wales Hospital and Queen Elizabeth Hospital all had to wait for up to eight hours before being treated. A&E wards have been stretched to breaking point time and again during holidays, and it has added to the suffering of patients. The Hospital Authority (HA) should extend the number of general out-patient clinics that provide service during public holidays in order to divert patients from emergency wards. Publicity of its online platforms which show the A&E waiting time reference should also be stepped up, so as to enable the public to make more informed decisions when deciding where to seek medical attention. The HA should also hasten the development of community health centres through public-private partnerships with a view to making healthcare services more accessible to the public, for when the number of non-urgent patients visiting emergency wards is reduced, the pressure on A&E departments could be eased.
During the Christmas and Chinese New Year holidays, most of the general out-patient clinics and private clinics are closed. As the winter flu season usually peaks between the same period of time, patients with even the mildest symptoms are often left with no choice but to visit emergency wards at public hospitals. This exacerbates the pressure on A&E units, and further stretches patients' waiting time. During the 2017 Christmas and 2018 Chinese New Year festive periods, non-urgent patients' waiting time at A&E wards had gone up to over eight hours, while the occupancy rate of public hospital medical wards was over 100 per cent. Some patients waited for over 12 hours and still could not see a doctor, while some other decided to give up due to the long queue.
The primary function of A&E departments is to rescue those who are in critical conditions, not treating mild illnesses like common cold or flu. In her Policy Address delivered in October 2017, Chief Executive Carrie Lam Cheng Yuet-ngor said the government would allocate resources to improve the healthcare system and services. The relevant measures included vigorously promoting primary healthcare, reducing repetitive admission of patients to hospital, and rectifying the phenomenon where A&E services were regarded by members of the general public as the first point of contact in seeking medical consultation. However, emergency wards are still overflowed during every holiday season. Frontline medical workers are severely overworked and utterly exhausted, while patients have to suffer as they are made to endure long queues. Instead of seeing any improvements, the situation seemed to have deteriorated. The HA must take the problem seriously and commit to tackling it.
Currently, among the 73 general out-patient clinics under the HA, only 23 of them provide evening consultation services (i.e. from 6pm to 10pm) from Mondays to Fridays, and only 13 of them provide, in addition to evening consultation services, consultation services on Sundays and public holidays. As the demand for healthcare services during holiday seasons is growing, the HA should actively consider increasing the number of general out-patient clinics that open on public holidays, so as to alleviate the pressure on A&E departments. In addition, the Hong Kong Medical Association have pointed out that many private clinics are still open for business during holidays. Patients with milder conditions can seek medical care from the private sector first. The Association is now designing a mobile application that aims to assist the public in finding a private clinic through GPS.
Via the internet and its mobile app "HA Touch", the HA has started to publish emergency ward waiting time references for public hospitals since December 2016. However, most people are still not aware of this online notification system, rendering it ineffective in diverting patients. The HA should step up promotion and publicity work, and look into the possibility of adding private clinics that open for business on holidays into its notification system. By doing so, the general public could better choose the medical service that is more suitable for them via the system, and in turn, patients will no longer need to rush to A&E wards with even the slightest sickness.
The government is conducting a comprehensive review of the planning for primary healthcare services. A District health centre with a brand new operation mode and funding from the government is being planned. This centre will make use of the local network to procure services for strengthening medical and rehabilitation services in the community, so that the public can receive the necessary care in the community, and unwarranted use of public hospital services can be reduced. This idea would be beneficial to the public and should be expedited, so that patients will be less likely to consider A&E departments as their first choice for medical services.■Jeffrey Tse (ywc_jeffrey@hotmail.com)
Exercise
1. 普通科醫生
2. 基層醫療
3. 專科門診
4. 分流/分診
5. 救護員
Answer
1. general practitioner (GP)
2. primary care
3. specialist out-patient clinics
4. triage
5. paramedic