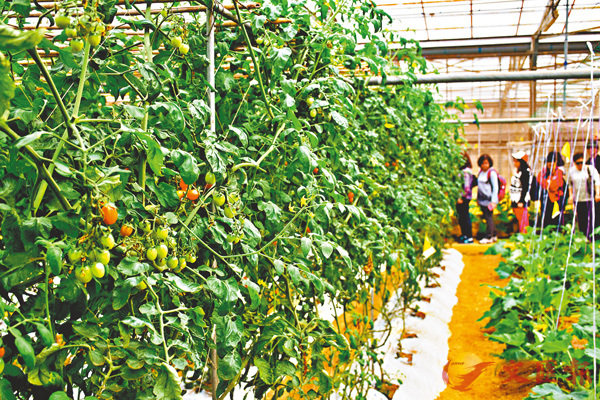 ■有機食品是指沒有用上農藥或化肥的食品。 資料圖片
【原文】下文摘錄自香港《文匯報》2018年10月26日報道︰
有機食品是指沒有用上農藥(pesticide)或化肥(chemical fertilizer)的食品,生產過程一般符合嚴格標準,近年愈來愈多消費者組織建議購買有機食品,認為有益健康、減少環境破壞和促進農業可持續發展(sustainable development),即使有機牛奶或雞蛋的價錢可能貴一倍,消費者也願意購買。
然而,不少人開始質疑這類食品是否真正有機,美國農業部(US Department of Agriculture)為此制定有機食品官方標籤(label),但被指把關不力,令標籤可信性(credibility)存疑,有消費者感到受騙。業界正考慮為有機食品自行設立標準,冀挽回公眾信心。
美國農業部在2002年設立「國家有機項目」(National Organic Program),統一有機食品標準,並與其他組織合作,確保嚴格執行(enforcement),但被指「放生」飲食業,食肆無須得到當局認證(certify),只需採取「合理」措施,為食品加入有機成分,便可標榜售賣有機食品。即使餐廳有意遵從當局標準,但驗證(verification)過程繁複,並需培訓員工,導致成本大增,令不少食肆卻步。
美國有機貿易協會(Organic Trade Association)的數據顯示,有機食品去年銷售額超過450億美元(約3,532億港元),佔全美食品銷售額逾5%。但去年9月發表的聯邦審計報告(audit report)指出,美國農業部未能確保進口商(importer)提供的文件,足以證明進口貨品屬有機穀物(grain),傳媒也揭露有進口穀物被錯誤標籤為有機,令消費者愈來愈擔心名不副實。
51歲的紐約市居民羅森堡(Gil Rosenberg)因健康考慮,4年前改為進食有機肉類,其後發現有機漢堡店Bareburger雖在菜單上列明「有機」,其供應的食品卻沒有農業部的有機標籤。羅森堡其後致函Bareburger行政總裁歐里庇得斯(Euripides Pelekanos),獲回覆指食店除使用100%有機牛肉外,亦採用只含75%至80%有機成分的牛肉,而根據農業部對農業界的規定,任何標示「有機」的產品,必須含有95%有機成分。歐里庇得斯表示,他從未聲稱Bareburger是100%有機,亦無意為旗下41間餐廳尋求有機食品認證,但強調Bareburger不會放棄以「有機」為賣點(selling point)。羅森堡批評Bareburger以「有機」作宣傳,是欺騙(deceive)消費者。
美國農業部表示無意更改規定,要求標榜有機的食肆取得認證,稱會善用科技和與其他組織加強協調(collaboration),在全球供應鏈中加強檢查(inspection)有機食品。
美國不少食物生產商指出,農業部的有機標準容許水耕(hydroponic farming),即不使用土壤種植,違背有機耕作「保護土壤」(soil conservation)的基本精神,而且沒有嚴格監控飼養動物(animal raising)的標準,批評有機食品標籤名不副實。業界正致力推廣「真正有機項目」(Real Organic Project),設立標準更高的有機食品標籤,並只限以泥土種植的傳統有機作物參與,在全美已獲多達60個農場響應。
香港有機認證中心(Hong Kong Organic Resource Centre)總幹事曾贊安(Dr. Tsang Tsan-on)解釋指,符合一定條件的水耕其實也是有機耕作,廣受市民歡迎的大棠有機芽菜(bean sprout)便是例子。有機耕作需符合至少兩條件,首先植物必須是以自然方式生長,例如芽菜在自然狀態下是在水中生長,那麼水耕種植的芽菜就符合有機種植原則。然而,如果一些植物原本在土壤生長,卻被放置到水植機器(hydroponic equipment)中生產,便不是有機。此外,有機種植亦要求排除化學物質,採用天然的殺蟲劑(natural pesticide)。
American organic labeling system was being criticized of low credibility
【譯文】Organic food is the food produced by methods not involving pesticides or chemical fertilizers and usually has stringent production requirements. It is often recommended by many consumer organizations in recent years, which is considered to be good for health, environmentally friendly and contributing to sustainable agricultural development, while customers are willing to pay for organic food such as dairy products or eggs that are sold at even twice the price of ordinary ones. Yet, people start to question whether such food is truly organic. The US Department of Agriculture (USDA) has established an official organic labeling system but it was being criticized of having loose monitoring and low credibility. Hence, the catering industry is considering setting up its own trusted organic standards to restore public confidence.
The USDA has developed the "National Organic Program (NOP)" in 2002 to standardize the requirements for organic food and collaborated with various parties to ensure strict enforcement. However, such regulatory system has been blamed for having loose control on the catering industry that the restaurants are not required to be certified by the authority but can advertise and sell organic products simply by making a "reasonable effort" to use organic ingredients. Even if the restaurants intend to comply with the relevant regulations, most of them still refrain from doing so due to the complicated verification process and high staff training cost incurred.
According to the statistics of the US Organic Trade Association, the organic food market hit $45 billion in sales last year (approximately HK$353.2 billion), accounting for more than 5% of the overall food sales. Yet, the audit report released by the federal government in last September pointed out that the USDA failed to justify that the documents provided by the major grain importers were credible enough to prove the food was organic, and it was also revealed by the media that some imported grains were mislabeled as organic, which inevitably undermined public confidence.
The 51-year-old New York citizen Gil Rosenberg started eating organic meat 4 years ago for health's sake, but discovered by happenstance that the self-proclaimed organic burgers he ate at Bareburger were attached with non-certified organic labels. In response to Rosenberg's accusation, the restaurant's chief executive Euripides Pelekanos said apart from using 100% organic beef, 75-80% beef would also be applied. However, any food labeled as organic must contain 95% organic ingredients in accordance with the USDA's regulations. Pelekanos said Bareburger had never claimed itself as 100% organic and he had no plan to certify the 41 Bareburger outlets and would not give up the selling point of "organic". Rosenberg began blaming the restaurant for promoting "organic" to deceive customers.
The USDA has indicated no intention to amend the regulations and request self-proclaimed organic restaurants to be certified, saying that it would make use of technology and strengthen collaboration with other parties to enhance inspection for organic food in the global supply chains.
Many US food manufacturers pointed out that the USDA endorses the practice of hydroponic farming apart from soil cultivation, which violates the spirit of organic farming for soil conservation, and it has no strict monitoring on animal raising, criticizing that the organic labels could be misleading. In view of the situation, the catering industry promotes the "Real Organic Project" to establish a higher standard for organic labelling and restrict the participation of crops raised by conventional organic cultivation methods only. Over 60 local farms welcome such campaign.
Dr. Tsang Tsan-on, the Director of the Hong Kong Organic Resource Centre, said that hydroponic farming meeting certain standards can still be regarded as organic farming, one famous example is the Tai Tong organic bean sprouts. Organic farming must meet at least two basic requirements, one is that the crops must be naturally-raised, such as the bean sprouts growing in water. Yet, if the plants originally raised in soil are relocated to hydroponic equipment, this is no longer organic farming. In addition, organic farming requires the use of natural pesticides rather than chemical ones.■龐嘉儀
Questions
1.除美國外,哪些地方的有機標籤需要經過特定機構的認證?
2. 除USDA外,還有哪個國際機構會對有機食品進行監管?
3. 有機產品除食品外,還包括什麼?
Answer
1. 加拿大、墨西哥、日本、歐盟等
2. 歐盟執行委員會 (European Commission)
3. 棉、麻、竹、服裝、化妝品、動物飼料等